Outline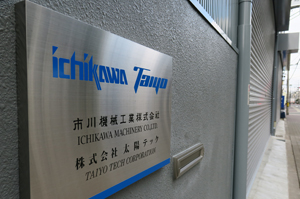 Name of Company: Ichikawa Machinery Co., Ltd.
Establishment: 1957
Capital: \30,000,000
Head Office & Main Factory:
12-15, Higashinakahama Joto-Ku, Osaka City, Osaka, Japan Zip Code: 536-0023 TEL +81-6-6962-2961 FAX +81-6-6962-3976 E-mail: info@ichikawa-imc.jp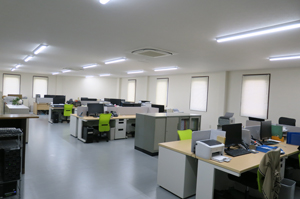 Bank: Bank of Tokyo-Mitsubishi UFJ.,
Imazato Kita Branch
Factory Areas: Main Factory Site 900m2
        Building 1,800m2
Main Products: Manufacture/Sales
        1) Corrugated Boards and Box Making Machines
        2) Carton Box Making Machine
        3) Corrugated Board and Box Associated Equipments
Directors:
Tetsuo Yonezu,  President & CEO
Kaoru Yabe,    Vice President
Toshio Tateno,  Executive Director
Shusaku Furuya,  Director
Hiromi Yonezu,  Director
Yoshio Ueda,   Auditor



GREETIBNG
Thank you for visiting the website of Ichikawa Machinery Co., Ltd. We have been involved with Manufacture/Sales/Maintenance of Corrugated Boards and Box Making Machines by the corporate philosophy of "Aggressive Action and New Challenge" has been over the last 60 years since we was established. We feel that it is our mission.
With product development from customer's point of view by creating the Comfortable Working Environment to improve the operability and safety, we have been contributed to the Corrugated Paper Industry.
Our maintenance staff can respond to customer request quickly.
Our response speed have highly regarded and earn trust from customer.
Toward the future, we will always continue to engage actively for developing the New Machine using our novel idea and skilled technology to meet the current social needs as well as we would like to meet your expectations.
We at Ichikawa Machinery Co., Ltd. ask for your continued patronage and support as we continue to work with dedication, imagination, and ingenuity.
Tetsuo Yonezu, President & CEO